History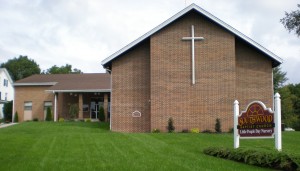 Southwood Baptist Church began as a missionary outreach by New Jersey Conservative Baptists in the fall of 1957, initially meeting in the Wdby Hts. Fire House. The church planting missionary, Rev. Edward Burckart, was on the field for less than a year when the first resident pastor, Rev. Dallas Green, was called. By Thanksgiving of 1958 the services were conducted in the Greenfields Village developer's storage barn and office building purchased by the church. Rev. Richard Christen became pastor in 1962, and under his leadership, the church grew to full capacity in these facilities.
In June 1965, a location for a new church campus was made available by the purchase of the historic Griscom Homestead in Greenfields. During this period of expansion, Southwood called the Rev. George Huber as its third pastor in 1969. A new sanctuary seating 300 with a lower level for nurseries and classrooms was dedicated in April 1970.  In the fall of 1970, Rev. Huber initiated Little People Day Nursery.
In 1971, Rev. Perry Draper started the Southwood Counseling Service on a one year trial basis. The church established it as part of the regular church ministry in 1972, and called Rev. Draper as Pastoral Counselor and Director, thus becoming our first Associate Pastor.
Rev. Paul Otto was added to the Pastoral Staff in 1973 to work in three areas: as an additional counselor; our first Youth Pastor; and as the Nursery School Director. The Griscom House was renovated for use as a counseling and educational building at that time. The Fellowship House at 2 Holly Dr was purchased in 1975.
In 1976, Rev. Draper resigned from his staff position and became a contracted counselor for the church.  Rev. Otto's responsibilities for the Youth Ministry were dropped and Rev. Dan Richner was called as full time Summer Youth Director.
Dr. Scott Schafer joined the church staff in 1978 as Associate Pastor in charge of the Counseling Service; and Dr. John Cionca joined the staff as Senior Pastor in 1979. Under Dr. Cionca's ministry, the church developed a strong biblical teaching ministry and an atmosphere of growing personal relationships. During this time, Dennis Mispel became the Associate Pastor of Youth & Christian Education in 1982. Jim Watson followed as Intern Youth Minister in 1984. In 1985 Jim became the Associate Pastor of Youth & Outreach.
Joel MacDonald became the Senior Pastor of Southwood in 1987.  In 1992, Tim Ritchey came on board as Interim Youth Coordinator. By the end of 1993, Dave Knox was called to be Pastor of Youth & Outreach. In 2003, Todd Rittersbacher joined the staff as a Youth Ministry Intern.
In August of 2006, Dave Knox resigned as Pastor of Youth and Outreach. In November of 2006, Brian Thompson was called to be Pastor of Youth. In April of 2008, Brian relocated to Pennsylvania. Brian MacDonald joined the staff as Interim Youth Director in September, 2008.
In September, 2009, after more than 20 years of pastoral leadership, Joel MacDonald resigned as the Senior Pastor of Southwood Baptist Church. Mark Crocco and Dave Knox shared the interim preaching and pastoral responsibilities until June of 2011.
In December, 2009, Brian MacDonald stepped down from his interim role as Youth Pastor and Todd Rittersbacher accepted the position of Youth Pastor. In June, 2011, Pastor Joe Lightfoot was installed as the sixth Senior Pastor of Southwood Baptist Church. Later in 2012, Emily Wehrle joined the team as the part-time Worship Leader. Emily stepped down in 2014, and Todd left to pursue graduate study in Germany in 2015.