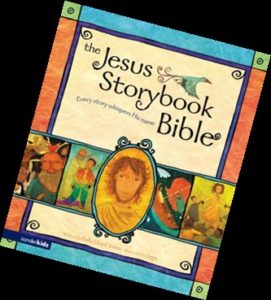 Join us every Sunday at 10:30, in Southwood's Worship Center to sing and worship as a family. Children ages 4 and up will then be dismissed to the downstairs Children's Level where they'll have the opportunity to discover that Jesus is at the center of God's great story — and theirs too!
There are lots of stories in the Bible that together tell one Big Story: How God loves his children and comes to rescue them. And at the center of the Story, there is a baby. Every story whispers his name … Jesus!
Through memory verses, fun and engaging activities, and the stories within the award-winning Jesus Storybook Bible, your children will discover that Jesus loves them and that he is the Great Rescuer!
Here's a sample of what your children will be viewing each week as part of the lesson!