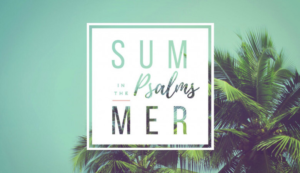 August 14th, 2019
In Worship Last Sunday we were encouraged in Psalm 26 to approach God humbly, loyally, righteously, and expectantly. How has your approach to God been in the past few days? Is there a specific area which would benefit from your additional focus? Which area is easiest for you? And when you come into God's presence, what is your greatest expectation?
This week we will explore Psalm 54. This prayer from David can do much to encourage your prayer life. I hope you will be able to join with us on Sunday morning at 10.30 am.
In Prayer— Students and teachers, if not already back, are preparing to return back to the classroom for the Fall. Last night in our weekly prayer gathering we prayed a lot about the world and the influences of the world on believers. This happens in our schools as well. Praying for our students and teachers is a high need. This week as you pray, please add to your prayers, that our Christian students and teachers: Would be a friend to the friendless. 1 John 4.7 – 8 encourages: Beloved, let us love one another, for love is from God, and whoever loves has been born of God and knows God. Anyone who does not love does not know God, because God is love. Every year it seems as if there are one or a number of kids who have difficulty connecting an making friends. Maybe you experienced this yourself. What a difference it will make if someone will take the risk to reach out to those students to be their friend. Loneliness and bullying can take a huge toll on children. Pray that our Christian students have the courage to reach out in kindness when they see another child who could use a friend. Coming Attractions This Sunday following the worship service will be Sundaes on Sunday – a celebration of fellowship, food and ice cream!