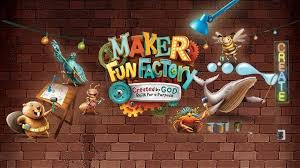 Dear Parents,
Welcome and thank you for sending your kids on an exciting adventure at Maker Fun Factory VBS. Your kids will begin or deepen their faith by discovering that our loving God made each of us, and that Jesus' love gives our lives incredible purpose.
Maker Fun Factory VBS is filled with incredible Bible-learning experiences. Kids will participate in team building games, experience interactive Bible stories, view thought provoking videos, make fun crafts, and sing lively songs. Please send your kids in play clothes and safe shoes so they can participate fully and safely.
We ask that parents drop their kids off at the appropriate pew with the crew chief every morning before 9:00. Parents, grandparents and friends are invited to join us in the sanctuary every morning for Sound Wave Sing and Play, and again at 11:30 for Funshop Finale. At dismissal the Sing and Play leader will dismiss the children by crews. Please come down the center aisle of the church to the pew to pick up your child, then exit around on the side aisles of the church. Should you need to pick up your child early any day contact one of the VBS directors and she will help you with that.
Your kids will also participate in a missions' project. This year we will be collecting children's arts and craft supplies like crayons, markers, paper, glue sticks, kid scissors, stickers and simple craft kits. These supplies will go to Family Promise of Gloucester County, a local agency which helps homeless families help themselves.
A highlight and a lasting memory of VBS are the fun-filled songs. You will be given an opportunity to purchase a music CD for $5 available in the church lobby before and after the VBS program
We are looking forward to a fun action-packed week at Maker Fun Factory VBS.
Your VBS Director and all the VBS Staff